Used Biodegradable Shopping Bags, Full Decomposition Around 180 Days
Unlike traditional plastic bags, our Biodegradable shopping bags are made of cornstarch, PBAT & PLA, environmentally friendly without polyethene, different from other cornstarch bags that can decompose a few years. The fusion with PBAT allows it to turn into biomass with carbon dioxide and water within three months in the soil; it is eco-friendly according to EN13432 standards and has an OK COMPOST Certificate.
With increasing bans on plastic bag use, our bags are a great alternative. These compostable, biodegradable shopping bags are a great way to get rid of plastic pollution and dispose of them knowing they will break down. Please use it within one year of purchase, and it will compost automatically when stored in the natural environment for a long time.
Our Eco-friendly bags have better tear resistance than plastic grocery bags, can even use it for the courier, dog poop, cat litter, kitchen trash, public garbage.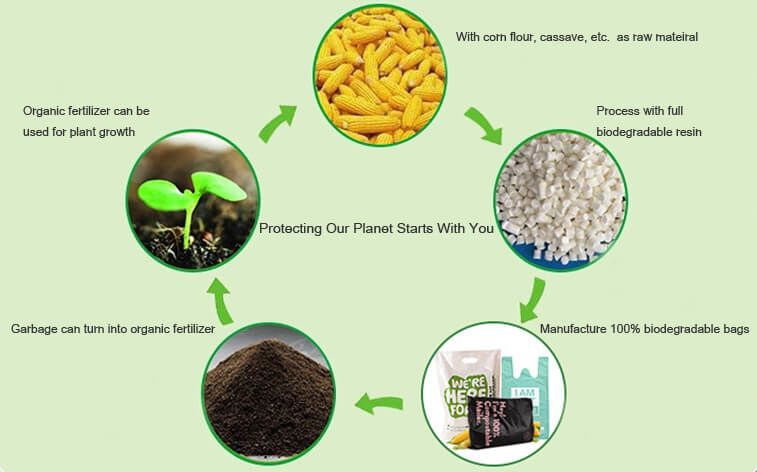 How Biodegradable Shopping Bags Decompose?
Photodegradation:
It can be degraded under ultraviolet rays,
and most of the residue is inorganic powder.
Burnable:
The residue is an inorganic powder, no oil coke, and harmful gas.
Thermal Oxygen Degradation:
The product can still be degraded by thermal oxygen when buried in the soil or without contact with the light source.
Customized Custom print biodegradable bags in different style and size:
Compostable T-shirt Bag
Die Cut Bags
Handbags
Ziplock Bags
Poop Bags
Courier Bags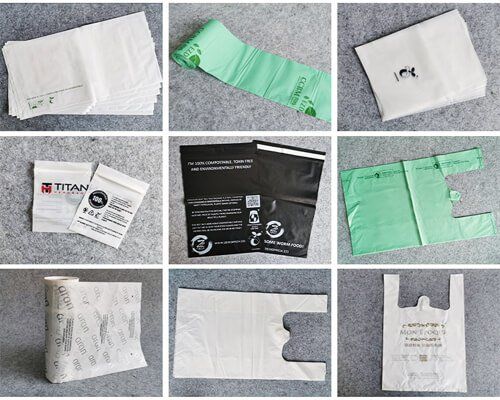 Wholesale various custom print biodegradable shopping bags at a competitive price.
Support customized small quantity. Contact us if you're interested.